Racket sports gaming experience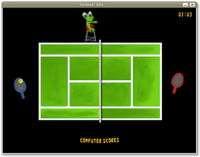 Tennix! is a tennis game written in C using the Simple DirectMedia Layer. The game features a two-player game mode and a single-player mode against the computer.
The Tennix source code is available under the GNU General Public License, Version 2 or later.
Tennix currently runs on Linux, MacOS X and Windows, but porting it to other platforms should be straightforward, if they support SDL.
Freshmeat.net project page
Launchpad.net project page
---
Support/Help
Report a bug - Visit our bug tracker to report a bug within Tennix This is also a place to submit wishlist items
Ask a question - If you have a specific question about Tennix, this is the place where you can get your answers
Contact the author - For any further inquiries, you can contact the author directly
---
Keyboard controls
PLAYER 1
PLAYER 2
move up
move down
swing racket
F -- Toggle fullscreen (Linux only)
C -- Switch between court types
Q -- Quit

Player 1 can also play using arrow keys and Space or the mouse
---
Gameplay hints
Swing the racket as late as possible to hit the ball harder
The flight direction of the ball depends on where the ball hits your racket
If your opponent is at the bottom of the screen, play the ball to the top edge
---
Media coverage / reviews
Tennix! SDL is copyleft © 2007, 2008, 2009